大漾帝榮獲 美國 Spark Awards 空間類設計 銀獎"上帝之手/Touch of God"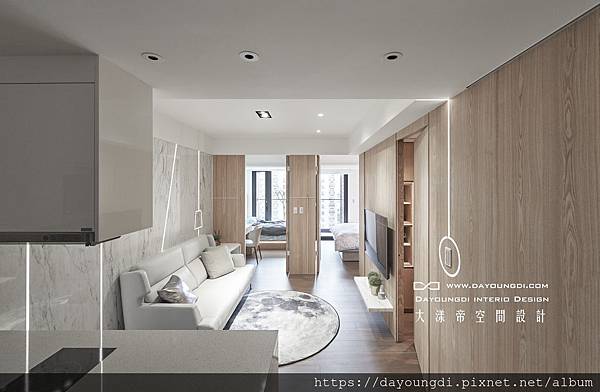 米開朗基羅畫作創世紀裡的上帝與亞當之手,在上帝伸手,而亞當伸手去接觸
那賜予他生命的上帝的手瞬間,剎那為他注入活力。「上帝之手」為一處住宅
規劃設計案中,以光作為整體設計主軸,設計了開關開啟光,讓空間充滿來自
神賜與的光亮與溫度。
In Michelangelo's Creation of Adam, Adam was gifted life the moment
he reached out to touch God's hand. The "Touch of God"residential
plan uses "Light" as its overall design theme to design switches that
light up the residence and give the space a sense of God-given light
and warmth.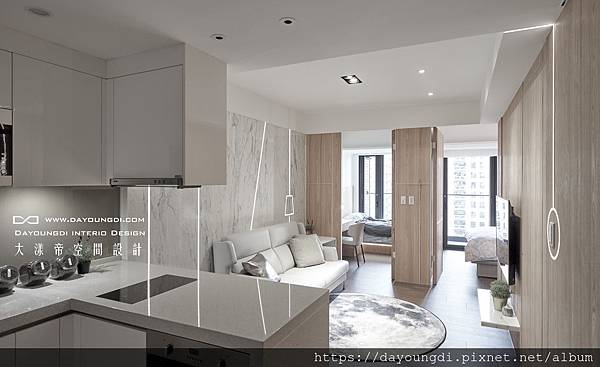 在十多坪大小的空間裡,細數而言,設計師以巧思將空間規畫為七個分區,
除了客餐廳主臥之外,還規劃出客臥、書房及更衣室,以現代簡約風格,成
就清新宅邸。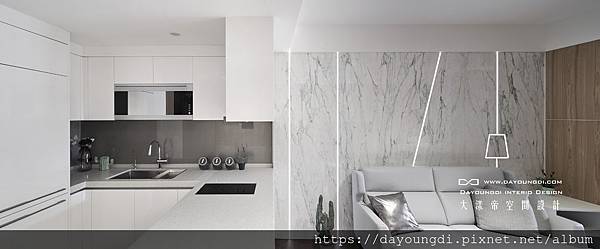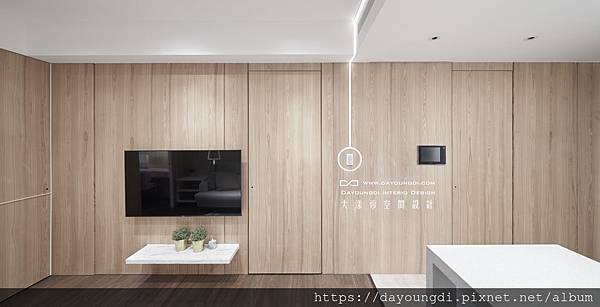 玄關入門後,首先進入吧檯與廚房檯面兼用的餐廚空間,以最小規格簡化設
備,以保留視覺感寬裕的客廳空間。以深色木皮地版創造兩室分野,簡單的
沙發座後以整面大理石譜寫基調,讓光從電視牆面延伸至大理石牆間,鑲嵌
進石牆內的線性光束,開啟了空間的光亮,光讓冷調的大理石產生溫度,猶
如石隙透出的光芒,充滿生機。
門口延伸至主臥、客臥、書房、浴室的牆面及門片,採以相同色澤的木質面
再以線性切割裝飾,達成整體立面的一貫性。
In area slightly larger than 33M2,the designer cleverly divided the
space into 7areas.
After passing through the entrance, people are first introduced to
a kitchen area that features a counter that can be used for cooking
and as a bar. The kitchen's equipment uses the smallest possible
dimensions to give the living room a spacious appearance. The living
room floor uses a dark-wooden veneer to divide the two rooms, and
a marbled wall behind the simplistic sofa is a base for extending the
light all the way from flat-screen TV into the marbled-wall's gaps.
The linear beams of lights embedded into the wall give the space
brightness and the cold-tempered marble warmth, just like the
life-giving rays of light. The wall that extends from the doorway
towards the master bedroom,guest room, study bathroom, and the
doors all use a wooden-surfacing of the same color with linear cuts
as decoration to make the overall façade's design consistent.
In addition to the living room, dining room, kitchen and master
bedroom, the designer also put in a guest room, a study and a
changing room into the plan: the details put into such a compact
space gives the residence a modern minimalist style. The designer
used professional knowledge to overcome various problems during
the construction process  including compartmentalization, sound
insulation, and concealment to create a residence of "Light."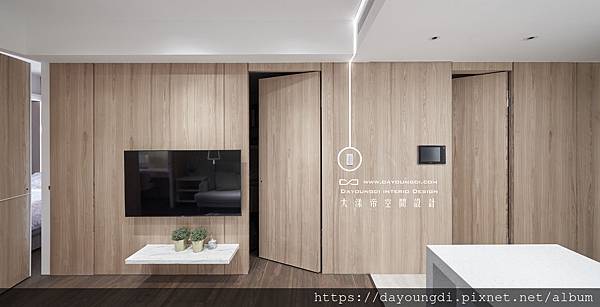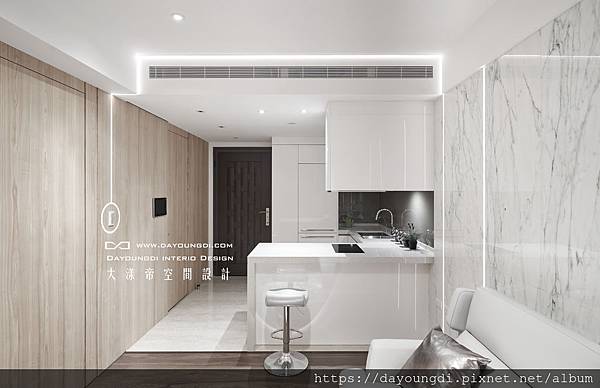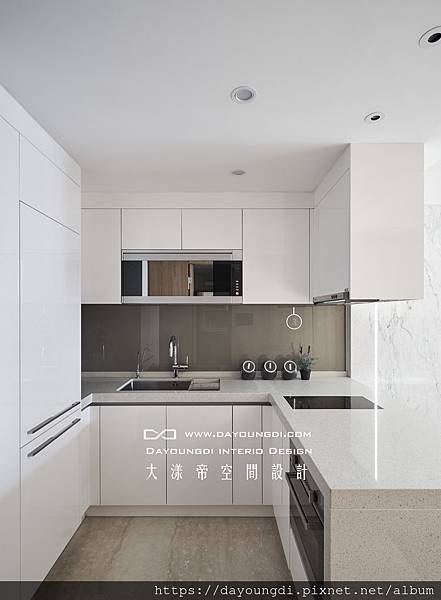 主臥床頭背版以斜度造型加入垂直軸線的線性崁燈,延續光
的語彙,以最低度的裝飾凸顯燈光設計的強度。而燈光計畫
中的圓型燈光、大理石施工及主臥床頭背板崁燈,都再再顛
覆一般對燈飾的印象,設計師以專業,克服種種施工上的困
難,包含隔間、隔音及隱密性的需求,成就此光的居所。
The back plate of the master bedroom's bed uses a slanted
design to incorporate a linear down light with a vertical axis
to build on the theme of "Light," and highlight the intensity
of the lighting design with minimal decorations. The circular
lights from the lighting design, the marbled construction,
and the down lights in the master bedroom bed's back
plate have all challenged traditional lighting beliefs.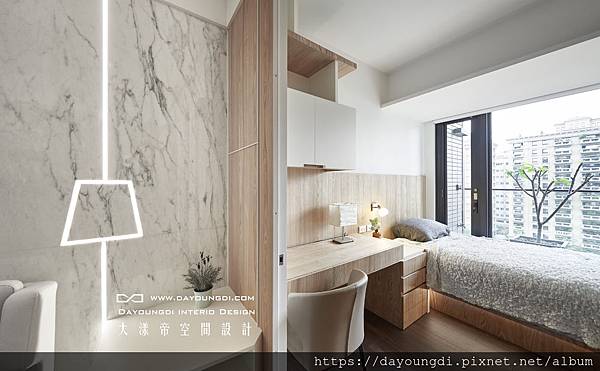 https://www.dayoungdi.com/wp-content/uploads/2019/11/冠德君悅1.jpg
1293
2000
dayoungdi
https://www.dayoungdi.com//wp-content/uploads/2019/11/logo-1000x282.png
dayoungdi
2019-12-27 11:30:09
2020-01-20 14:24:40
大漾帝榮獲美國Spark Awards空間類設計銀獎"上帝之手/Touch of God"